About Stk'emlupsemc te Secwepemc Nation
The SSN consists of the Tk'emlúps te Secwépemc and Skeetchestn Indian Band, one of the seven historic "Divisions" of Secwepemc Nation. The Stk'emlúpsemc te Secwepemc Nation are responsible for Aboriginal Title and Rights on their Territory. In 2007 a Resource Sharing Protocol MOU was created to manage the conservation, negotiations and management of resources on Tk'emlúps te Secwepemc and Skeetchestn Indian Band's shared territory forming SSN. In 2008, SSN signed the New Afton Participation Agreement establishing a co-operative and mutually beneficial relationship between New Gold and the bands. The Participation Agreement with New Afton is a framework for communication, collaboration and co-operation. It facilitates the regulatory approval, financing, development and operation of the New Afton Project in an efficient, culturally relevant and environmentally sound manner and provides the Kamloops Division with economic opportunities and social and financial benefits, including employment, education, training and business opportunities. In 2010 SSN signed the Economic and Community Development Agreement (ECDA), which outlines mineral tax-revenue sharing with the government, one of the first in Canada.
About Tk'emlúps te Secwépemc
Tk'emlúps te Secwepemc Band is a progressive Band on the leading edge of self-sufficiency for their approximate 1000 members (living both on and off the reserve). They pioneered Indian Property taxation and have created over 200 direct jobs and over $200 million of regional economic activity. The Band, which operates over 10 corporations, added 20,000 acres of fee simple land, and crown leases for resource development, partnerships with investors, entrepreneurs and other investment/economic opportunities.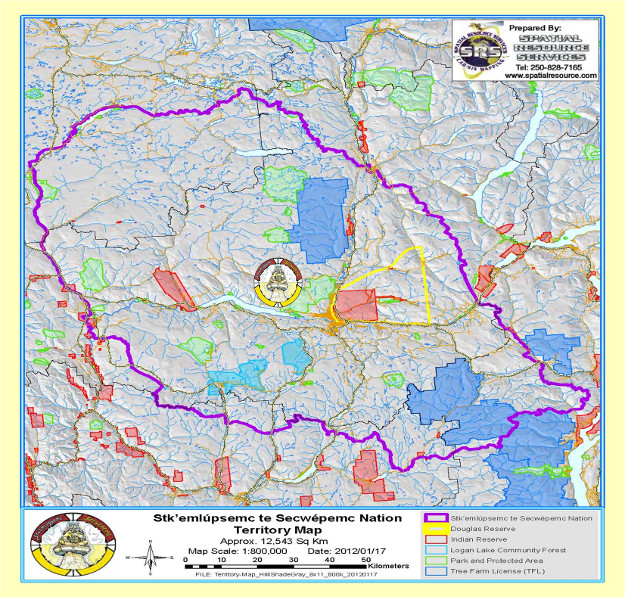 About Skeetchestn Indian Band
The Skeetchestn Indian Band is working towards self-reliance through education, as another key component of the Band's strategy, as evidenced by the opening of the Skeetchestn Community School in 1996. They also have the Knucwentwécw Development Corporation, which manages several ventures including the Big Sky Gas Station, Trailer Park, Sk7ain Ventures, Skeetchestn Holdings, Painted Rock Aggregates and a Movie Set. Other future projects may include a cultural interpretive centre and a restaurant. Cultural and sporting events such as pow wows and annual rodeos are important to the community.